Last Friday, 73 MillerCoors employee volunteers teamed up with Sweet Water staff members to increase awareness about stormwater pollution in Milwaukee as part of Great Water Month.
Volunteers split up into 20 teams and spray painted more than 400 storm drains using "No Dumping" stencils in the neighborhoods surrounding South Shore Park and the MillerCoors campus. All the tagged drains are located in the combined sewer area, meaning that the water travels to the Metropolitan Milwaukee Sewerage District (MMSD) for treatment and then out to our waterways.
Teams also distributed door hangers with stormwater information, talked with residents and picked up trash during their afternoon of service. Although the temperature reached 90 degrees, volunteers soldiered on with a smile and residents seemed to appreciate their fluorescent-vested visitors.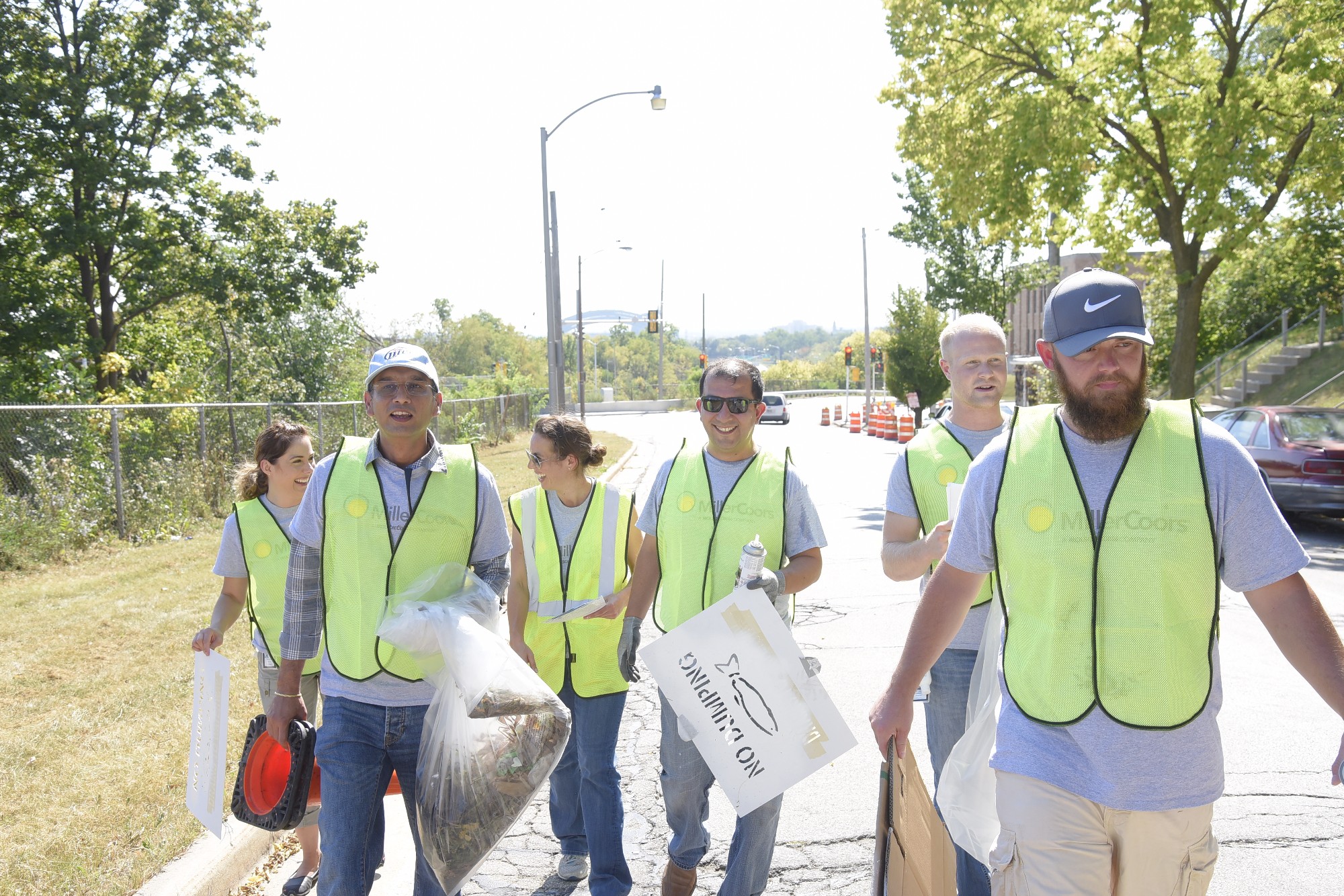 MillerCoors has demonstrated its commitment to water quality and corporate citizenship through its annual Great Water Month community service event, which is now in its 9th year. This year, MillerCoors has taken the additional step of becoming the first brewery in the United States to become certified through the Alliance for Water Stewardship (AWS). The AWS Standard is similar to LEED certification for "green buildings" and provides a framework to guide corporations in using water sustainably.
This community service collaboration is a part of new "Adopt-A-Storm Drain" program that Sweet Water is offering in partnership with MMSD. Since the start of the program in June, Sweet Water has worked with a half dozen neighborhood organizations in the Milwaukee area to stencil storm drains and build awareness around stormwater pollution prevention.
If you are interested in adopting a storm drain near you, please contact Jake Fincher at info@respectourwaters.org or click here for more information.
Photo credit:
Artist Group Advertising
Katy Rowe & Dale Stenbroten
www.artistgroupadvertising.com